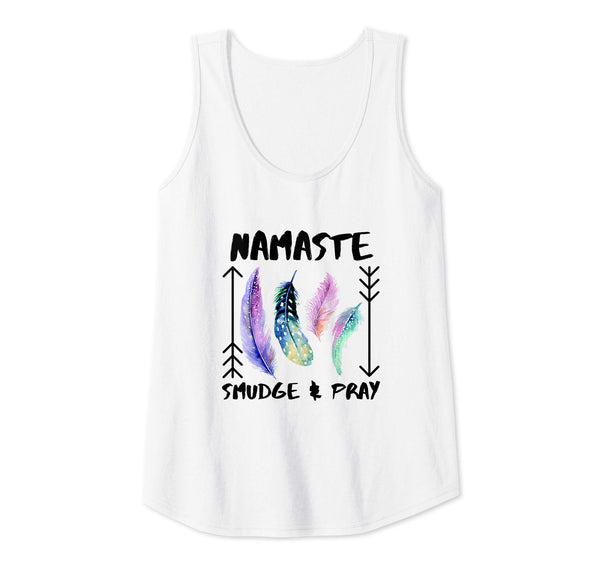 Namaste, Smudge & Pray Smudging Feathers Tank Top - 2 Colors
Brand: Worldly Finds
Color: White, Heather Grey - Available on Amazon
Features:
Namaste Shirt - This Namaste yoga shirt with hanging, colorful smudge feathers is the perfect companion to go smudge yourself or home or just stay in a high-vibration state. Also perfect for yoga sessions as a yoga workout shirt. Look and feel balanced.
Funny yet spiritual, represents the well-being Native American ritual. Feel calm, light as a smudge feather and full of Zen when wearing this apparel. Makes a great gift for women who are fans of smudging sage, yoga, meditation and a healthy lifestyle.
Lightweight, Classic fit, Double-needle sleeve and bottom hem
Details: Calling all yoga and sage burning lovers! This yoga shirt is a beautiful representation of the two traditions of yoga and smudging, both known for energy release, cleansing and their positive affect on your mind and soul. Our trendy and unique yoga clothing including, hoodie, short sleeve shirts, long sleeve shirts, sweatshirts, v-neck and tank tops are perfect for your yoga practice. This pretty yoga gift idea would make your yogi or yogi friend or family yoga member proud. Whatever you prefer, Hatha or Vinyasa Yoga. This piece of yoga garment will make any yoga outfit perfect. It's casual, fun, very comfortable, full of happy vibes and machine washable. It is also of the highest quality and perfect for birthdays, Christmas and anniversaries such as Mother's Day. It is an everyday yoga gift idea for those who regularly practice yoga or smudge sage. This womens feather shirt is perfect for every woman, daughter, mom, or sister that has a lot of yoga love and enjoys practicing mindfulness. Perfect gift for any yogi and yogini or any person who wants to cleanse energy and remove negative energy. Bad Vibes be gone! Set your intentions with this prayer shirt, and you'll manifest your deepest desires. Let this Prayer shirt for women speak to your soul and let others know that you are proud to be such a positive person. Namaste and bright blessing!
Package Dimensions: 10.0 x 8.0 x 1.0 inches