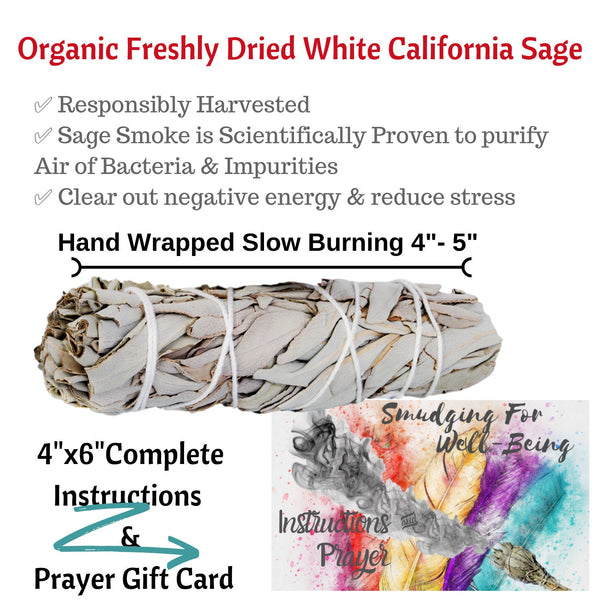 Sweet Grass Braided 12" & Smudging Sticks – Organic White Sage Smudge Bundle, Cedar Smudge Stick
Our sweet grass, white sage and cedar 3 smudge set are the perfect trifecta in your smudging ceremonies to purify, neutralize energy and reinfuse your space with positive energy. Smudging Sampler Handcrafted Gift Set includes 3 QUALITY NATURAL organic and sustainably sourced dried herb, hand-wrapped/braided smudges. We are a small family business and hand pick only the BEST & Sustainably Harvested, Fragrant Sage Bundles and intensely vanilla scented sweet grass!

♥ 12" Sweet Grass Braid for Intention Setting, warding off evil spirits, cleansing a space & creating a harmonious space.
♥ 4"+ Cedar Bundle for Attraction of Positive Energy
♥ 4"+ California White Sage Bundle for clearing negative energy and spiritual purifying
♥ 1 x 4" x 6" - Instructions and Smudge Prayer Guideance Gift Card, complete & easy to follow
MORE DETAILS:
💙 DRIED SWEET GRASS BRAID, CEDAR & WHITE SAGE SET- 1 x 12" Long Braid Sweet Grass, a sacred plant and an ancient healing tool of the Native American smudge ceremony that brings healing and purifying as the smoke is fanned around you - an extremely fragrant scent of vanilla you will fall in love with as we did. 1 x 4"+ White Sage, a potent energy cleanser & air purifier, 1 x 4"+ Cedar stick with an anti-stress calming earthy scent, protects and cleanses keeping only high vibe energy.
✌️ NATURAL, ORGANIC FRESHLY DRIED STICKS - We are a small family business and have tested the quality of the sage available on the wholesale market, we source the MOST Fragrant, THICKLY WRAPPED Smudge Bundles available. Harvested & Dried within the last two weeks! Further, we carefully hand-cut the 12 inch sweet grass braids and include ONLY the thickest inches in the braid, we do not include the thin tail end giving you a lot more value and sweet grass to burn.
🌿 SUSTAINABLY SOURCED SAGE GIFT SET - Responsibly & Sustainably grown, harvested, and hand wrapped on a private nursery - NEVER wild harvested to protect this sacred plant species.
✍️HEALING, CLEANSING, PURIFYING SMUDGE STICKS - 3 STEPS TO A POSITIVE SPACE: 1. Burn the Sweet Grass first to set intentions and clear the mind. 2. Burn the white sage to neutralize and remove negative energy and purify. 3. Burn the cedar stick, just a little smoke brings the room to balance and connects and grounds you, positive energy from nature! These powerful smudging Sticks are processed with ethical standards, Reusable & tightly bound for continuous burning, with a stress reducing, calming earthy scent.
+++ This spiritual gift set has and will touch many lives and families of the artisans that create these one of a kind smudging sticks. This is truly a GIVING GIFT Set made from the hands of many loving people all over the world AND gives back with charitable giving to needy kids in Peru! Read on for more info!
Our handwrapped Sage bundles are of the BEST quality in size and freshness as they are organic and FRESHLY DRIED! This is important for the smoke to be not only as fragrant as possible, but intense in its cleansing power. Everything is GIFT READY packaged with extreme care and love. This sage stick variety premium quality kit has everything needed to create harmony with the spiritual and metaphysical, all while making a positive impact on others in need.