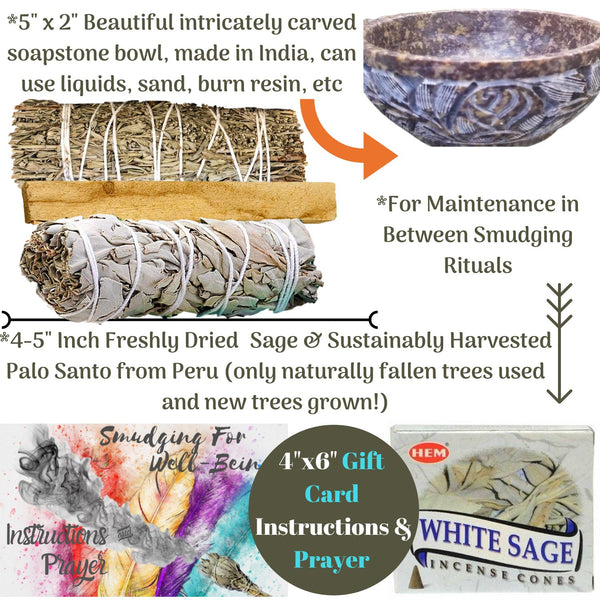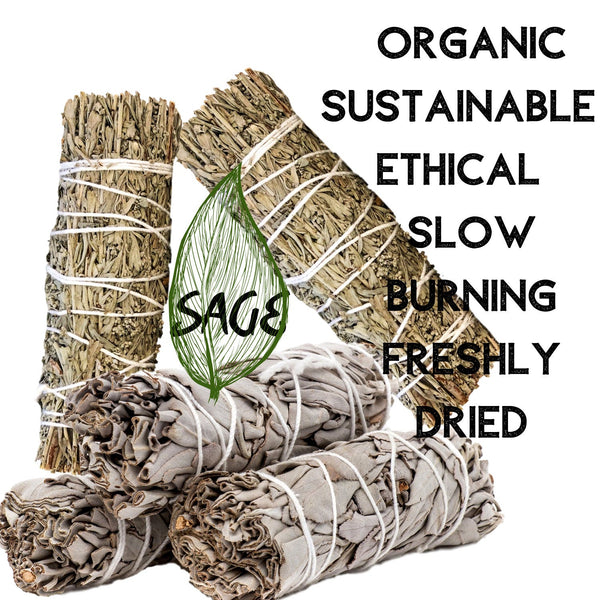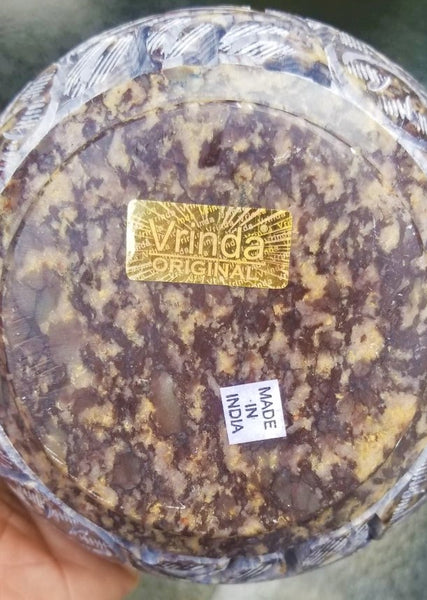 Soapstone Incense Burner Smudge Bowl Sage Smudge Kit for Smudging, Scrying, Cleansing, Burning Sage Kit
This Complete Starter's Smudging Soapstone Bowl Handcrafted Kit includes 5 QUALITY items. 4 different sage burning tools to try, each with a unique calming and energy cleansing scent.

♥ 1 x Carved Sage Leaf Soapstone Smudge Bowl (dark as shown), heavy in weight & in positive energy! (Soapstone is cut from different slabs with varying degrees of color, please allow for color variations.)
♥ 1 x California White Sage Stick 4"-5," Thickly hand wrapped with freshly dried sage leaves!
♥ 1 x Blue Sage Stick 4"-5," Thickly hand wrapped with freshly dried sage leaves!
♥ 1 x Palo Santo Holy Wood Stick 4" from Peru, hand cut by villagers from fallen trees only!
♥ 1 x Box HEM Sage Incense Cones for maintenance aromatherapy and smaller cleanses in between
♥ 1 x 4" x 6" - Instructions and Smudge Prayer Guidance Gift Card, complete & easy to follow
This spiritual gift set has and will touch many lives! A beautifully carved sage leaf designed etched bowl of natural soapstone made by villagers in India. The items in this kit come from all over the world AND help children and families in need.
We are a small family business and source and hand pick the BEST Sage Bundles that are hand-wrapped & FRESHLY DRIED! This is important for the smoke to be not only as fragrant as possible, but intense in its cleansing power. Everything is GIFT READY packaged with extreme care & LOVE! This sage stick variety premium quality kit has everything needed to create harmony with the spiritual and metaphysical, all while making a positive impact on others in need.
Burning sage, like using crystals and healing stones, is perfect to energize their space. Burning sage bundles in this ancient Native American ceremonial ritual should be done to keep yourself energetically balanced.
This unique gift set also supports those needing wicca supplies, witchcraft, altar supplies, Native American decor, spa decor and meditation supplies.
🌟 CARVED SOAPSTONE SMUDGING SET - A WORK OF ART! 1 x 5" Wide and 2" High Dark Stone Carved Soapstone Smudge Bowl, craftmanship at its best intricately etched with love in India, Ethically hand crafted and supporting small villages with these beautiful one of a kind pieces! Each bowl is unique in quality of color based on the cut of stone. Sage leaves adorn the engravings with a rose design, perfect for your sage burning ceremones! Clear away bad energy knowing this bowl was made by loving hands & people!
🌿 CLEANSING SAGE SMUDGE STICKS & SAGE INCENSE: 4 VARIETY SAMPLER SET: 1 x 4"-5" California White Sage Bundle for cleansing your space of negative energies and creating a warm happy home, Thick Freshly Dried (Salvia Apiana), ALSO - 1 x 4"-5" Blue Sage Smudge Stick, a lighter scent, also used for cleansing, protecting and lifting your spirit, Both REUSABLE & tightly bound for continuous burning, with a anti-stress earthy scents.
🔥 BONUS BURNING TOOLS - MEDITATE, MANIFEST: 2 x 4"+ Palo Santo Holy Wood Stick, sustainably harvested in Peru ONLY from fallen trees. 1 x HEM Box of Sage Incense Cones perfect for use in between saging rituals for consistent spa like environment. Comes with a separate burner base that you can place in your bowl when burning the cones if you like. All 4 burning tools have very different therapeutic aromas, you will love experiencing the different scents and how they bring peace and harmony home.
🎁 POSITIVE ENERGY GIFT SET - A beautiful folded 4"X6" instructional gift card has step by step guidance, smudge prayer & intentions how to perform the ritual. Packaged with tons of care for protection by a small family business in a white corrugated gift box. We LOVE our customers! Exclusively designed by Worldly Finds.
💜 GIIVING BACK HAPPY VIBES! SUSTAINABLE POSITIVE ENERGY: Worldly Finds is a brand that believes businesses can bring positive change to those in need. We want to spread generosity and love by donating a portion of the profits from this kit towards bringing love, hope, essentials & life skills for needy children and their single moms, in partnership with the awesome "Kids Alive" organization for their Manchay Oasis center in Peru.