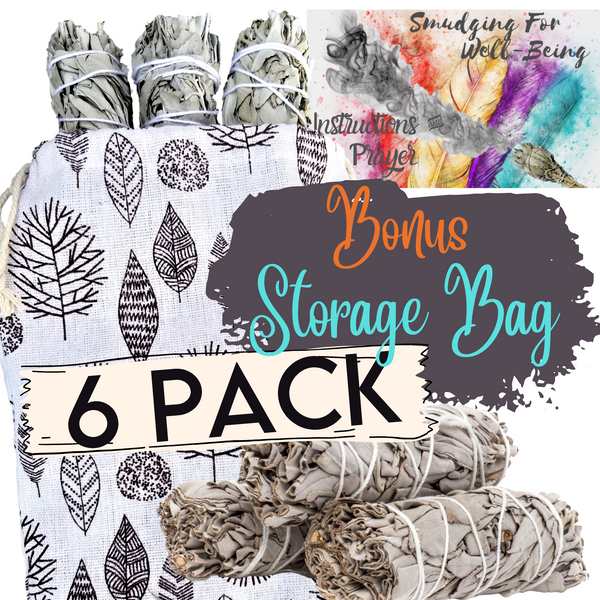 Sage Smudge Sticks, 6 White Sage Bundles Bulk Refill & Shaman Storage Bag
SAGE SMUDGE STICK BUNDLES - 6x 4" NATURAL, ORGANIC & SUSTAINABLY SOURCED FRESHLY DRIED SAGE STICKS: Thick California White Sage Smudge Sticks or wands, hand wrapped with ethical standards, Reusable & tightly bound for continuous burning, with a stress reducing, calming earthy scent.

Also, 1- 9.8" x 6.7" Shaman linen, nature-themed smudge storage bag to store your sage but more room to store your Healing Crystals, Resins, Abalone Shell, Incense Sticks, Dried Sage Bundles, Palo Santo and more for future use! The bag is breathable to keep your sage dry, protected from mold, yet keeps in the incredible scent of these smudge sticks.

POSITIVE VIBES IN ACTION/SUSTAINABLE GIVING: We are a brand that believes businesses can bring positive change to those in need. We want to spread generosity and love by donating a portion of the profits from this kit towards bringing love, hope, essentials & life skills for needy children and their single moms, in partnership with the awesome "Kids Alive" organization for their Manchay Oasis center in Peru.

SPIRITUAL GIFT WITH POSITIVE ENERGY: This set is sure to be the perfect present for any well-being fan in your life! Packaged with love, this is the perfect starter or replacement kit as a house warming gift or to elevate to a healthier mind, body & soul by purifying and protecting. We LOVE our customers! Exclusively designed by Worldly Finds.

Ethically harvested and hand wrapped in California. We are 110% dedicated to your happiness, we are a caring family small business supporting you to create a happier, healthier home and spirit.
More Details:
These sustainably harvested sage sticks, and convenient storage bag create a well balanced space all while making a positive impact by empowering and positively changing children's lives in serious need in Peru. Burning sage or smudging using this white sage smudge energy clearing bundle is perfect for those wanting to purify their space or self of negative energies or create an uplifting atmosphere while practicing yoga or mediations.
Burning sage in this ancient Native American ceremonial ritual should be done to keep yourself and environment energetically balanced. These sage sticks promote maintaining a healing, harmonious and peaceful state of being, spiritual awareness, intuition, clears negative energy and studies show it also cleans the air of bacteria. It is especially helpful when you've been around people that are depressed, fearful, ill, emotionally unbalanced, mentally ill, emotionally or physically toxic, or angry. Also when you are feeling blue, or under extreme stress.
Smudging creates a wonderful "lightness" of the atmosphere. When you smudge on a regular basis, harmony prevails. The Latin word for sage is, 'Salvia,' from salvus healthy meaning 'to heal.' Other benefits to burning sage, it brings wisdom (old sage/wise), clarity, energy cleansing and increased spiritual awareness and intuition. All one needs to do to gain these benefits is to burn it in their home, or any place needing cleansing. If people have imbalances (physical, emotional, spiritual) in their lives, it can negatively affect their overall health and well-being. The theory behind this burning ritual is that the smoke will attach itself to negative energy and as the smoke clears away it takes the negative energy with it, releasing it into another space where it can then be recycled into positive energy. Note, Natural products vary in size, shape and color.