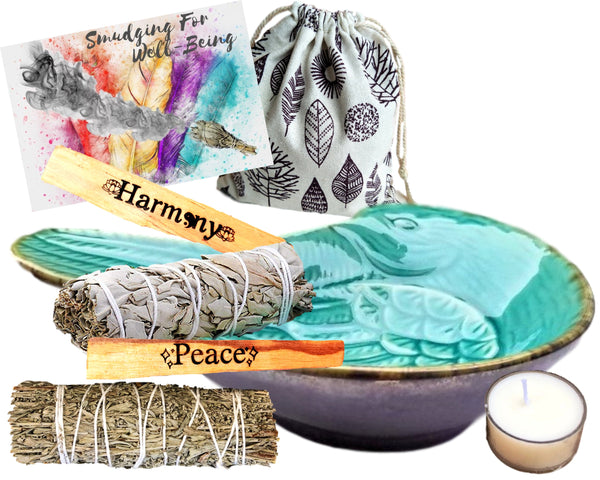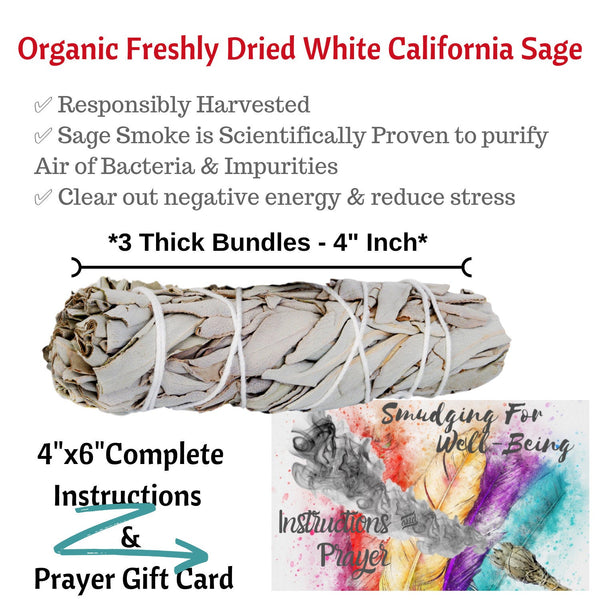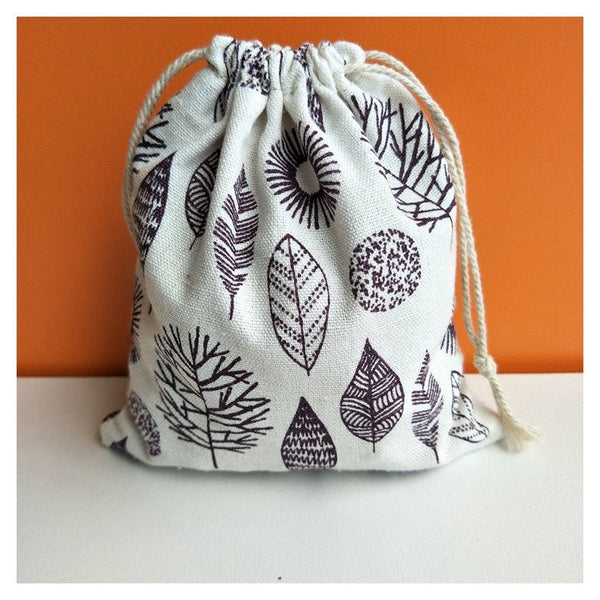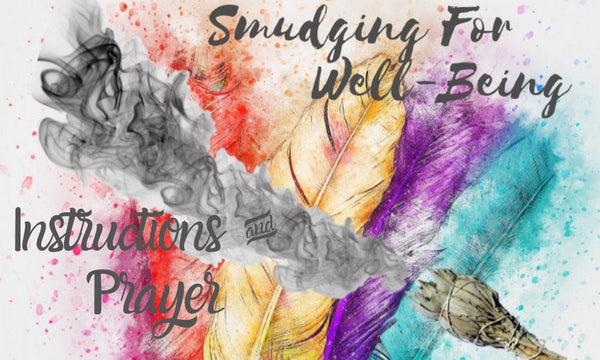 Peace & Harmony Smudge Kit - 8 Pc Ceramic Dove Smudge Bowl Gift Set
💙 PEACE & HARMONY SMUDGING BOWL GIFT SET - 8 PIECE BOXED GIFT SET :- INCLUDES ALL NATURAL & ETHICALLY SOURCED QUALITY ITEMS!
1 x Beautiful Turquoise Ceramic high shine Dove Bird Bowl for use as a smudge bowl holder for sage burning as an alternative to a abalone shell, this bowl has no holes along the side as abalone do and are the perfect vessel to hold crystals and other items for display.
🔥 CLEANSING WHITE SAGE & BLUE SAGE STICK & 2 ETCHED PALO SANTO - 1 x Each 4"+ California White Sage & Blue Sage Smudge Sticks, thick bundle (Salvia Apiana,) ONLY grown on location, not wild harvested, sustainable and ethically sourced! Reusable & tightly bound for continuous burning, with a anti-stress earthy scent.
2 x 4" Peruvian Palo Santo (Holy Wood) etched with intentions "Peace" and "Harmony" with an intensely fresh unique calming scent when burned to aid in your smudging ceremony or in between to keep your space harmonious or for meditation, yoga practice or spiritual prayers.
🎁 BONUS EXTRAS - 1 x Rose scented Tea light candle with a beautiful fragrance to mix with your sage burning experience.
1 x 5" x 6.5" Shaman Healing, nature-themed medicine smudge bag for storage of your crystals, herbs, dried sage sticks or palo santo for future use.
💝🛍️ GIFT READY - POSITIVE ENERGY - SMUDGE BOX GIFT SET: A beautiful folded instructional gift card has step by step guidance, smudge prayer & intentions how to perform the ritual.This complete boxed kit is sure to be the perfect present for any well-being fan in your life! Packaged with tons of care in a corrugated white gift box. Perfect starter kit as a house warming gift, Christmas Present or to elevate to a healthier mind, body & soul by purifying and protecting. We LOVE our customers! Exclusively designed by Worldly Finds.
Note on Smudging: 🧘🏽‍♀️
This sage smudge stick premium quality kit has everything needed to create harmony with the spiritual.Burning sage, like using crystals and healing stones, is perfect to energize their space. Burning sage bundles in this ancient Native American ceremonial ritual should be done to keep yourself energetically balanced.
This 8 Piece sage kit promotes maintaining a healing, harmonious state of being & clears negative energy. Using sage bundles for cleansing also helps when you are feeling blue, or under extreme stress. The kit comes complete with a beautiful folded gift card with step by step instructions on how to perform the ancient tradition for a successful clearing and feelings of total renewal.
Smudging creates a wonderful "lightness" of the atmosphere. The Latin word for sage smoking is Salvia para quemar,meaning 'to heal.' This fresh dry sage also cleans and purifies air bacteria! The theory behind this burning ritual is that the smoke will attach itself to negative energy and as the smoke clears away it takes the negative energy with it, releasing it into another space where it can then be recycled into positive energy.This unique gift set also supports those needing wicca supplies, witchcraft, altar supplies, Native American decor, spa decor and meditation supplies. Note, Natural products vary in size, shape and color as each is unique from nature! 💙