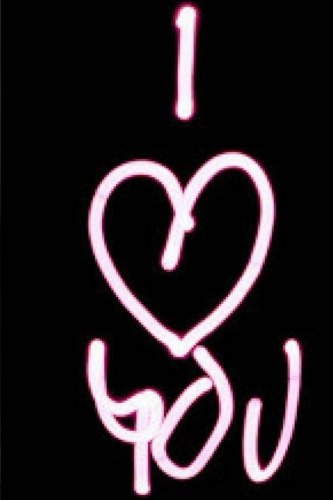 I Love You Journal, Neon Pink and Black 80s Design Theme Notebook
Your Creativity + This Inspirational Journal = Happiness! This unique I Love You Neon Sign book is just waiting for you to let your pen flow into it for creative expression of every kind in this beautifully designed cute journal book.
 
Premium Writing Journal Features:
150 white lightly lined pages
Place to mark the date
6x9" an ideal classic size - See below for ideas on use!
Soft, full-color matte cover with creative exclusive design
Perfect Gift for yourself, a friend, mom, wife, teen or kids

Ideas For Using our Inspiring Journals:
Notebook/Diary/Journal/Project/Planner/Composition-Class, work, or church/prayer notes, christian, bible study, or simply keep up with to-do lists to stay organized and productive!
Daily Log Book/Health Journal-Track your health, fitness and workout goals, eating habits, water intake, miles ran or laps logged swimming, Use as a food journal too
Personal Self Journal/Memory-Practice gratitude journaling, self-reflection, and devotional writing for personal growth and to document your life journey, adventure or travelers/travel notebook to keep the memory alive.
Journal Scrap/Junk Book-Write Stories, Poems or Songs? Perfect! Want to have fun with Washi Tape and Stickers? Photos? Music? Art? Have at it!
Recipe Organizer/Blank Recipe Book-Use as a cute recipe journal! Don't lose those cherished recipes, use it as a cooking journal or dessert journal for easy reference and use as a grocery list notebook too!
Password Book/Keeper/Journal/Organizer-Store your logins and never deal with lost passwords again!
Business Journal- Use as a monthly bookkeeping record book or budget book!
Pregnancy, Adoption, Life Journal- Document the milestones of one of the most important times in your life to share with your future child!

💜 Check out all of our popular blank notebooks and journals by clicking on our author name and discover other unique and creative designs to make your journling fun!