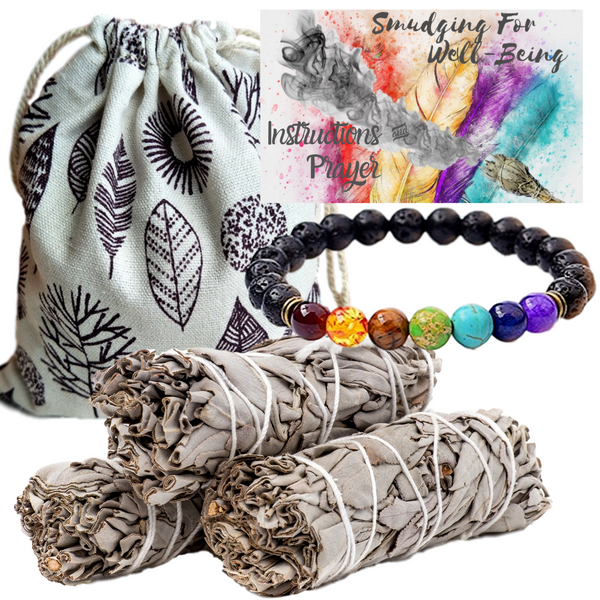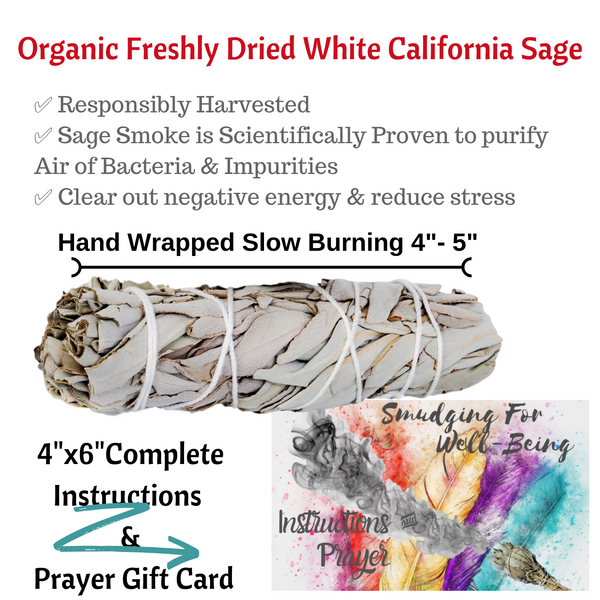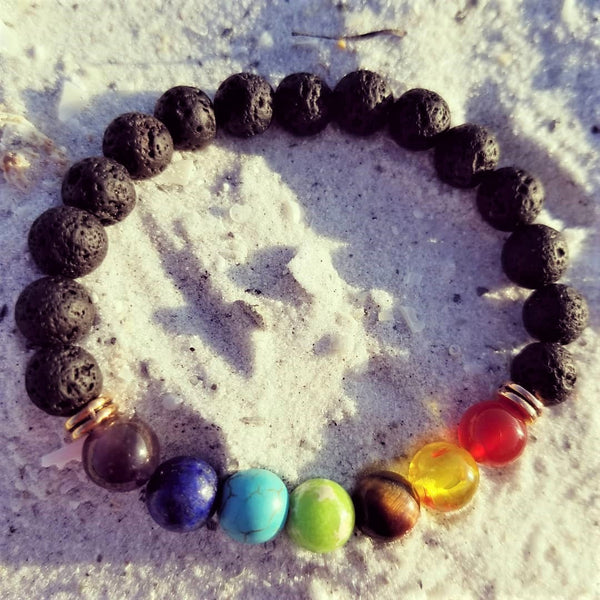 Sage Smudge Sticks Chakra 3 White Sage Kit, Chakra Bracelet
SPIRITUAL CLEANSING ATMOSPHERE:  4"- 5" FRESHLY dried California White Sage Smudge Stick, Reusable & tightly bound for future uses,  a long lasting burn, with a stress reducing, calming earthy scent. Freshly dried sage bundles are important for the maxium benefit of intensity of the cleansing power! You home will feel more balanced after a toxic relationship, new house, illness, life changes or any general bad vibes that need to clear out! Great House Warming Gift or gift for a friend in time of need (divorce, breakup, health issues, depression, etc)!


CHAKRA CLEARING & BALANCING:

 7 Gemstones Chakra Essential Oil Diffuser Meditation Bracelet with real stones, fits most. 6.7" inner diameter, strong elastic with porous lava rock for women and men. Use the perfect included companion, a 10ml thick glass healing crystals gemstone roller ball bottle with gemstone top! Easily use your own favorite oils and perfumes inside! Simply mix in any fragrance and roll on.(Oil sold separately).




 CONVENIENT STORAGE BAG - 5" x 6.5" inch Shaman Linen Sage-Leaf Themed Storage Bag. This super handy storage bag stores your sage bundles, resins, incense, palo santo sticks or other ritual tools for future use.


POSITIVE VIBES IN ACTION/SUSTAINABLE GIVING: Worldly Finds is a brand that believes businesses can bring positive change to those in need. We want to spread generosity and love by donating a portion of the profits from this kit towards bringing love, hope, essentials & life skills for needy children and their single moms, in partnership with the awesome "Kids Alive" organization for their Manchay Oasis center in Peru.


THE PERFECT GIFT: SPIRITUAL GIFT: A beautiful folded 4" X 6" instructional gift card (shown) has step by step guidance, intentions & prayer on how to perform the ritual.This beautiful sage gift set is sure to be the perfect present for any well-being fan in your life! Packaged with tons of care, ready to gift!. Help your loved ones elevate to a healthier mind, body & soul by purifying and protecting. 
About Smudging ~ 


🔥 This sage smudge stick kit has everything you need to create a well balanced spiritual decor space all while making a positive impact on others. Burning sage, much like using crystals and healing stones, is perfect for those wanting to energize their space, self, or create an uplifting atmosphere while practicing yoga or meditation.


 Burning sage in this ancient Native American ceremonial ritual should be done to keep yourself and environment energetically balanced. This 8 Piece Well-Being home blessing kit promotes maintaining a healing, harmonious and peaceful state of being, spiritual awareness, intuition, clears negative energy, and is especially helpful when you've been around people that are depressed, fearful, ill, emotionally unbalanced, mentally ill, emotionally or physically toxic, or angry. Also when you are feeling blue, or under extreme stress.


 The kit comes complete with a beautiful folded gift card with step by step instructions on how to perform the ancient traditional ceremony for a successful clearing and feelings of total renewal. Smudging creates a wonderful "lightness" of the atmosphere. When you smudge on a regular basis, harmony prevails. 


The Latin word for sage is, 'Salvia,' from salvus healthy meaning 'to heal.' Other benefits to burning sage leaves is it brings wisdom, clarity, energy cleansing, and increased spiritual awareness/ intuition. If people have imbalances (physical, emotional, spiritual) in their lives, it can negatively affect their overall health and well-being. The theory behind this burning ritual is that the smoke will attach itself to negative energy and as the smoke clears away it takes the negative energy with it, releasing it into another space where it can then be recycled into positive energy.


This kit also supports those needing wicca supplies, witchcraft, altar supplies or loves Native American decor ritual pieces. Note, Natural products vary in size, shape and color as each is unique from nature!