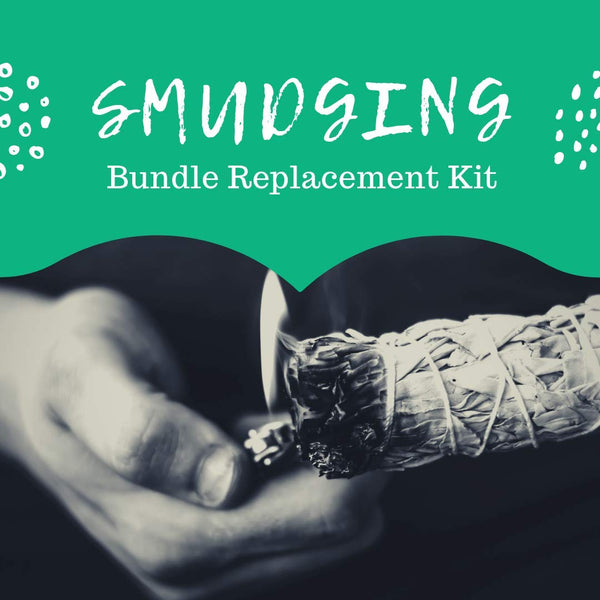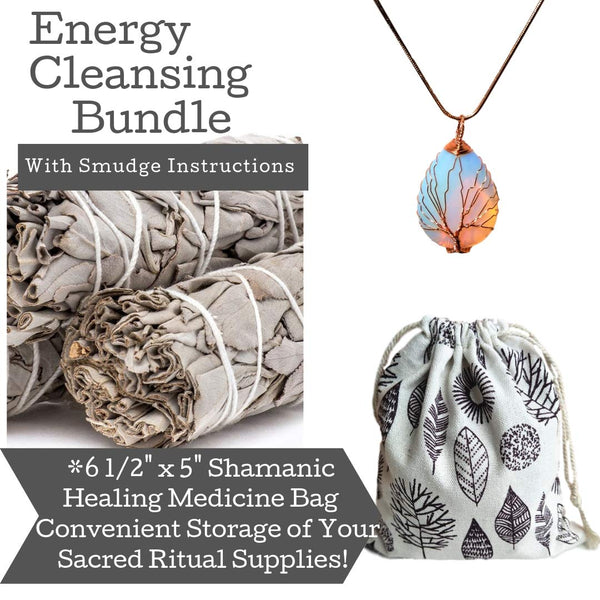 Sage Smudge Sticks Kit & Opal Stone Tree of Life Necklace Set
Brand: Worldly Finds
Color: Opal Tree of Life Rose Gold Set
Features:
WHITE SAGE BUNDLES & HEALING CRYSTAL OPAL SAGE KIT INCLUDES: 2 - 4" California White Sage Smudge Stick bundle, Reusable & tightly bound for continuous burning, with a stress reducing earthy scent. Also, 1- 5" x 6.5" Shaman linen, nature-themed medicine bag to store your crystals, herbs, dried sage sticks or palo santo for future use.


NATURAL OPAL CRYSTAL ENERGY STONE NECKLACE: Handmade Tree of Life Rose Gold Copper Wrapped - Pendant Size -1.5" x 1.25" on a high quality stainless steel, strong and rust proof rose gold 30" chain. Opal is known as the "eye stone" and acts a prism to the full spectrum of light to bring forth optimism, enthusiasm and creativity, and allows for the release of inhibitions inspiring love and passion. A karmic stone that centers on happiness.


POSITIVE VIBES IN ACTION/SUSTAINABLE GIVING: Worldly Finds is a brand that believes businesses can bring positive change to those in need. We want to spread generosity and love by donating a portion of the profits from this kit towards bringing love, hope, essentials & life skills for needy children and their single moms, in partnership with the awesome "Kids Alive" organization for their Manchay Oasis center in Peru.


SPIRITUAL GIFT WITH POSITIVE ENERGY: A beautiful folded instructional gift card (shown) has step by step guidance, & intentions prayer on how to perform the ritual.This set is sure to be the perfect present for any well-being fan in your life! Packaged with tons of care this is the perfect starter or replacement kit as a house warming gift or to elevate to a healthier mind, body & soul by purifying and protecting. We LOVE our customers! Exclusively designed by Worldly Finds.


SAGE INCENSE STICKS FOR CLEANSING: PERFECT SAGE GIFT - Relax, Meditate & Manifest with these white sage smudge bundles for your saging ceremonies to create a consistent positively charged spa-like environment. Remove negativity from your space & spread positive energy. Great relaxation, meditation, yoga, mindfulness,aromatherapy, metaphysical and spiritual gifts for self love and a high vibe life.
Details: This sage smudge stick bundles kit will help you create harmony with the physical, spiritual and supernatural all while making a positive impact on kids in need. Burning sage, like using crystals and healing stones, is perfect for those wanting to energize their space, self, or create an uplifting atmosphere while practicing yoga or meditation.
Burning sage in this ancient Native American ceremonial ritual should be done to keep yourself and environment energetically balanced. This healing jewelry and smudging sticks set promotes healing, harmonious and peaceful state of being, spiritual awareness, intuition, clears negative energy, and is especially helpful when you've been around people that are depressed, fearful, ill, emotionally unbalanced, mentally ill, emotionally or physically toxic, or angry. Also when you are feeling blue, or under extreme stress.
The kit comes complete with a beautiful folded gift card with step by step instructions on how to perform the ancient traditional ceremony for a successful clearing and feelings of total renewal. Smudging creates a wonderful "lightness" of the atmosphere. When you smudge on a regular basis, harmony prevails. The Latin word for sage is, Salvia, from salvus healthy meaning 'to heal.'
Other benefits to burning sage leaves is it brings wisdom, clarity, energy cleansing, and increased spiritual awareness/ intuition. If people have imbalances (physical, emotional, spiritual) in their lives, it can negatively affect their overall health and well-being. The theory behind this burning ritual is that the smoke will attach itself to negative energy and as the smoke clears away it takes the negative energy with it, releasing it into another space where it can then be recycled into positive energy.This kit also supports those needing wicca supplies, witchcraft, altar supplies or loves Native American decor ritual pieces.