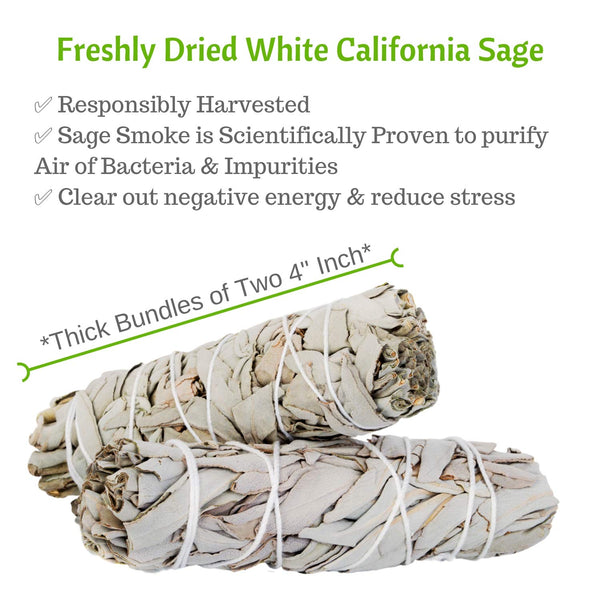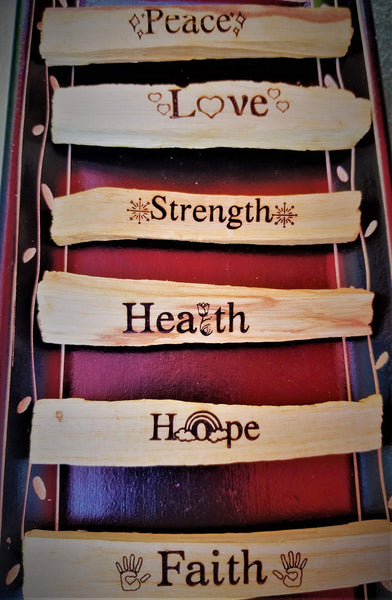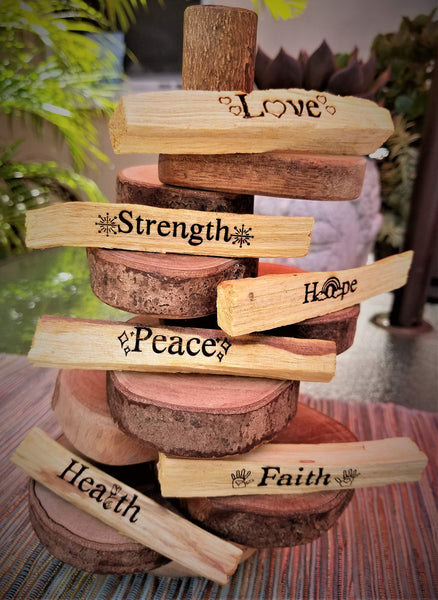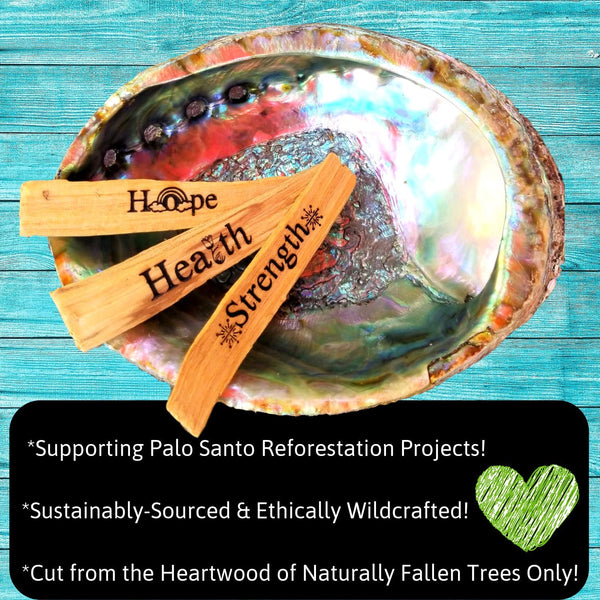 Sage Sticks & Engraved Palo Santo HEALING - Etched Holy Wood Intentions Incense Cleansing Gift Set
Features:
ENGRAVED PALO SANTO BUNDLE GIFT SET: 4" sustainably sourced Palo Santo from Peru to set your intentions for your spiritual personal growth rituals. Designed and laser etched by a caring small family. These Palo Santo smudging sticks are hand cut and ethically sourced from licensed farmers who ONLY cut the trees that have died and have fallen naturally to honor and protect this sacred tree for responsible harvesting. This holy wood is pure and has a natural intense scent that awakens the spirit.
💙 MANIFEST, SET INTENTIONS & HEALING ENERGY CLEANSE: Set Includes 3 Etched Palo Santo wood sticks "Health, Strength & Hope." This set is the perfect thoughtful gift for anyone going through a health recovery, as a get well gift, and for personal mental and physical growth and well-being. Also included, 2 4" ethically harvested California White Sage Smudge Bundles, a complete refill kit or beautifully presented gift set.
🌟 BONUS - Every order comes in 1- 5" x 6.5" Shaman Healing Medicine Storage Bag, nature-themed to store your crystals, herbs, dried sage sticks and of course palo santo for future use (pictured). Also Included: A beautiful folded instructional gift card (shown) has step by step guidance, & intentions prayer on how to perform the ritual. Packaged with tons of care, great for a house warming gift or to elevate to a healthier mind, body & soul by purifying and protecting.
✌️ POSITIVE VIBES IN ACTION/SUSTAINABLE GIVING: We are a brand that believes businesses can bring positive change to those in need. We want to spread generosity and love by donating a portion of the profits from this kit towards bringing love, hope, essentials & life skills for needy children and their single moms, in partnership with the awesome "Kids Alive" organization for their Manchay Oasis center in Peru.
🎁 PERFECT SPIRITUAL GIFT - Relax, Meditate & Manifest with these exclusively designed etched palo santo sticks for your saging ceremonies to create a consistent positively charged spa-like environment. Remove negativity from your space & spread positive energy. Great relaxation, meditation, yoga, mindfulness,aromatherapy, metaphysical and spiritual gifts for self love and a high vibe life.
Details: This Palo Santo Intentions Etched Holy Wood Bundle brings to you the powerful benefits from these magical trees that aid in energy clearing, healing and spiritual cleansing. Our bundles include only ethically harvested palo santo sticks and depending on your chosen set, also a purifying bundle of certified organic, sustainably farm-grown and-harvested California white sage. Palo santo, which means "holy wood" or "wood of the saints," is a fallen wood from a sweet, fragrant tree that grows in South America.Both the wood and the precious essential oil it produces are considered important conduits for healing. The act of harvesting a dead palo santo tree requires a special government permit, which is rarely given out in order to protect the trees and their potent properties. It's also said that the wood of the palo santo tree is of no use unless it died of natural causes.When burned, the clarifying smoke released from smudging herbs like sage emit negative ions that can uplift our mood and purify people, places and even objects from negative energy. Much like washing your hands before the start of a meal, smudging with palo santo is the act of cleansing your aura before you feed your soul through ceremony or ritual. Often used for emotional and spiritual guidance, palo santo is an effective natural anti-anxiety remedy. When inhaled, it moves directly through the brain's olfactory system, where it helps to stimulate the body's relaxation response to combat worry, anxiety, sleep disorders and depression. Please note, all natural products will vary in size, color and shape.